TORONTO, ON – August 23, 2017 – Itafos (TSX VENTURE: IFOS) ("Itafos") provided an update today on the company and the status of its key strategic initiatives.
Itafos Arraias Single Super Phosphate ("SSP") Operations
Itafos finalized the recommissioning of the Itafos Arraias SSP Operations in Brazil at the beginning of July 2017, on schedule and on budget. Itafos is now actively working to ramp-up its production with a target to reach 80.0% of capacity by year-end. Initial results are positive with P205 concentrate grades reaching levels of over 30.0% and SSP production of over 17,000 tons on specification (01-17-00). In anticipation of the start of the ramp-up phase and as mentioned in its last update in June 2017, Itafos initiated its sales and marketing strategy and booked and received payment for its first sale of 500 tons of SSP to a local blender in Brazil. Itafos will provide periodic status reports as it continues to ramp-up production of the Itafos Arraias SSP Operations and implements its sales and marketing strategy.
Ore to and from Homogenization Pile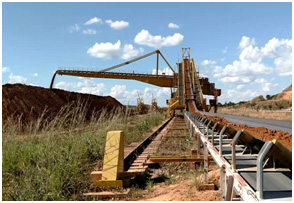 SSP Warehouse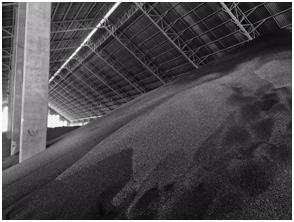 Staffing
Itafos continues to advance on its objective of building a world class leadership team. In addition to filling all top management, coordinator and supervisor positions at the Itafos Arraias SSP Operations, effective July 31, 2017 Paul Dekok was appointed to head Itafos' Operations group. Marten Walters, who previously led the Operations group, transitioned his responsibilities to head Itafos' Engineering group. Mr. Walters will now focus on development and engineering for new projects and leading technical initiatives on special projects.
Mr. Dekok is a senior executive with over 25 years of experience in the phosphate industry. Prior to joining Itafos, Mr. Dekok was President of PED Quality Consulting and in that capacity worked closely with the Itafos management team in the recommissioning of the Itafos Arraias SSP Operations since March 2017. Mr. Dekok is a retired President of Phosphate from Potash Corporation who has diverse operational experience in mining phosphate rock and manufacturing fertilizers, with a successful track record in operational safety, and environmental and product quality compliance. As head of Itafos' Operations group, Mr. Dekok will focus on all aspects of facility operations and will report to Itafos' CEO.
Other Highlights
Itafos and certain of its subsidiaries finalized the change of their respective functional currencies from CAD or BRL to USD based on the primary currency of Itafos' operations and financing activities being denominated in USD.
On April 17, 2017, Itafos' ownership in Stonegate Agricom Ltd. ("Stonegate") increased to approximately 35.4% upon the closing of a non-brokered private placement by Stonegate in which Itafos subscribed to all the shares issued for cash consideration of CAD$950,000. On the following day, Itafos' ownership in Stonegate decreased to approximately 35.2% upon the issuance by Stonegate of 4,000,000 shares pursuant to the exercise of warrants held by third party warrant holders.
On June 12, 2017, Zaff LLC ("Zaff") redeemed certain membership units from its members in exchange for delivery by Zaff of an aggregate of 15,986,493 Itafos shares to such members (the "Disposition"). Prior to the Disposition, Zaff held 65,868,991 Itafos shares, representing approximately 83.0% of the issued and outstanding shares of Itafos (on an undiluted basis). Zaff, now a wholly-owned subsidiary of Castlelake L.P., currently holds 49,882,498 Itafos shares, representing approximately 60.6% of the issued and outstanding shares of Itafos (on an undiluted basis).
On July 11, 2017, Mr. Evgenij Iorich was appointed to the board of Itafos. Mr. Iorich serves as a Managing Partner at Pala Investments Limited ("Pala") and is responsible for oversight of Pala's private equity and liquid investment portfolios. Mr. Iorich joined Pala Investments AG in September 2006 and has since worked on a wide range of strategic initiatives, M&A opportunities, operational and financial planning and structuring in emerging markets. Mr. Iorich's commodities experience extends across a broad range of bulk commodities, precious and base metals and he is currently a Director of Nevada Copper Corp. (TSX: NCU), Serinus Energy Inc (TSX:SEN) and Peninsula Energy Limited (ASX:PEN). Prior to joining Pala, Mr. Iorich was a financial manager at Mechel, the Russian metals and mining company. Mr. Iorich graduated from the University of Zurich with a Master of Arts degree in 2004.
On July 18, 2017, Itafos closed the arrangement agreement dated May 18, 2017 with Stonegate pursuant to which Itafos acquired all of the issued and outstanding common shares of Stonegate not already owned directly or indirectly by Itafos by way of a court-approved plan of arrangement under the Business Corporations Act (Ontario).
On July 21, 2017, the shares of Stonegate were delisted from the Toronto Stock Exchange and on August 1, 2017 Stonegate ceased to be a reporting issuer.
On August 11, 2017, Itafos received funding from Zaff and Pala in the aggregate amount of USD$10,000,000 and documented such transaction by means of a USD$5,000,000 promissory note to Zaff and a USD$5,000,000 promissory note to Pala. On the same day, Itafos indirectly provided a loan to GB Minerals Ltd. ("GB Minerals") in the amount of USD$2,500,000 and GB Minerals documented such transaction by means of a promissory note.
The table below summarizes Itafos' balance sheet as of June 30, 2017:
Amount in
USD millions
Cash
$9.37
Current Assets
$6.49
Non-Current Assets
$312.44
Total Assets
$328.30
Current Liabilities
$24.55
Non-Current Liabilities
$14.19
Total Liabilities
$38.74
Equity
$289.56
Total Liabilities and Equity
$328.30
The Financial Statements and Management Discussion and Analysis for the year ended December 31, 2016 and quarter ended March 31, 2017 and June 30, 2017 are available under Itafos' profile at www.sedar.com and at its website, www.itafos.com.
About Itafos
Itafos (TSX VENTURE: IFOS) is focused on becoming a significant integrated producer of phosphate based fertilizers and related products. Itafos has an experienced team with significant experience in the business of fertilizer operations, management, marketing and finance. Itafos owns and operates the Itafos Arraias SSP Operations, which consists of an integrated fertilizer producing facility comprised of a phosphate mine, a mill, a beneficiation plant, a sulphuric acid plant, an SSP plant and a granulation plant and related infrastructure located in central Brazil. Itafos' exploration portfolio includes a number of additional projects in Brazil, including the Santana Project, a high-grade phosphate deposit located in close proximity to the largest fertilizer market of Mato Grosso State and animal feed market of Pará State, and the Araxá Project, a high-grade rare earth elements, niobium and phosphate deposit located in close proximity to two operating mines, therefore benefiting from existing local infrastructure. In addition, Itafos owns a 100.0% interest in Stonegate Agricom Ltd. which owns the Paris Hills Project, a high-grade phosphate deposit located in Idaho, United States and the Mantaro Project, a high-grade phosphate deposit located in Peru and an approximately 31.3% interest in GB Minerals Ltd. which owns the Farim Project, a high-grade phosphate deposit located in Guinea Bissau.
About The Blueshirt Group
The Blueshirt Group provides capital markets expertise and strategic financial and media relations counsel to growth companies and venture capital firms globally. Founded in 1999, The Blueshirt Group has earned its reputation as a leader in investor relations (IR), financial communications, financial media relations and crisis management. For more information, please visit http://www.blueshirtgroup.com.
Forward-Looking Statements
This news release contains forward-looking information ("FLI") regarding future events or the future performance of Itafos. Generally, FLI can be identified by expressions of belief, expectation or intention, and often contain words such as "anticipates", "believes", "expects", "estimates", "intends", "plans", "could", "may", "might", "should", "would" or variations of such words. FLI is based on various assumptions, including with respect to operations and production at the Itafos Arraias SSP Operations and other projects, technical feasibility, resources and reserves, mine life, financing sources and use of funds, growth of Brazilian and global fertilizer markets, results of operations, performance, business prospects and opportunities. While Itafos considers these assumptions to be reasonable based on information currently available, such assumptions may prove to be incorrect. FLI is subject to various risks and uncertainties that could cause actual events or results to differ materially from those projected. These risks and uncertainties include, but are not limited to, variations from Itafos' assumptions regarding the matters mentioned above; the timing and outcome of current and pending environmental claims or lawsuits; imprecision in mineral reserves and resources estimates; changes in the agriculture, energy, fertilizer, financial, raw material and transportation market conditions; fluctuations in commodity prices and currency exchange rates; inability to obtain necessary permits; insurance and uninsured risks; potential increases in production costs; Itafos' ability to effectively integrate any future acquisitions into its business structure; changes in government policy and in environmental and other governmental regulation; Itafos' ability to attract and retain skilled employees with relevant industry expertise; catastrophic events such as fires, floods, explosions, release of hazardous chemicals and seismic events, as well as other risks and uncertainties reported by Itafos from time to time in its Management's Discussion and Analysis filed with the securities regulatory authorities in Canada and available at www.sedar.com. FLI should not be read as a guarantee of future events or results. You are cautioned not to put undue reliance on FLI.
For more information, please visit http://www.blueshirtgroup.com.
Neither the TSXV nor its Regulation Services Provider (as that term is defined in policies of the TSXV) accepts responsibility for the adequacy or accuracy of this release.
FOR FURTHER INFORMATION, PLEASE CONTACT:
Itafos
Brian Zatarain, Chief Executive Officer
brian.zatarain@itafos.com
www.itafos.com
The Blueshirt Group
Gary Dvorchak, CFA
Managing Director
+1 (323) 240-5796
gary@blueshirtgroup.com